Analog Devices' Power by Linear ™ power management ICs and power modules provide the foundation for powering today's and tomorrow's innovations across all markets. Our high-performance power management solutions meet stringent power requirements with leading-edge design and packaging technologies, including unmatched power densities, ultralow noise technology, and superior reliability. Supported by the industry's most comprehensive start-to-finish power design tool suite, along with highly configurable power interconnect solutions.
Consistent Quality: The most technically advanced products with performance specifications guaranteed in the -40 ° C to + 150 ° C temperature range.
Proven Reliability: FIT rate of <0.09 ppm and a lifetime warranty. TS 16949, ISO 9000, ISO 9001, and ISO 14001 certified.
Customer and Factory Support: Unique field service, factory support, and quality web-presence provide an unmatched approach to service all customers, regardless of size.
Performance: Premium performance that delivers unmatched value. Compact footprints, high-efficiency conversion, and low EMI.
Long Life Cycles: Committed to extending product longevity without obsolescence – as long as the market needs it, we will make it.
Analog Devices μmodules ® Power products are system-in-package solutions that integrate high-performance analog ICs, power switches, and passive components. These products simplify the implementation, verification, and manufacturing of power circuits.
Advantages of μModule Regulators
Saves PCB layout design time
Reduces the need for an in-house power supply expert to debug the power
High efficiency at a wide operating frequency range
Shortened design cycle
High efficiency in a minimal board area
Good thermal performance
No need for additional EMI filters for most products (saving cost on components and board area)
Small foot-print applications in industrial, medical, test, and measurement
Multi-voltage rail applications
FPGA, DSP, or application processor applications
Featured μModule Products
| Part Number | Number of outputs | Vin (min) V | Vin (max) V | Output Current (type) A. | Output Current 2 (type) A. | Price (1000+) $ US | Package |
| --- | --- | --- | --- | --- | --- | --- | --- |
| LTM4691 | 2 | 2.25 | 3.6 | 2 | 2 | 2.84 | 24-lead (3mm × 4mm × 1.18mm) |
| LTM4657 | 1 | 3.1 | 20th | 8th |   | 6.48 | 49-lead BGA (6.25mm × 6.25mm × 3.87mm) |
| LTM8078 | 2 | 3 | 40 | 1.4 | 1.4 | 6.53 | 49-lead BGA (6.25mm x 6.25mm x 2.22mm) |
| LTM4668 | 4th | 2.7 | 17th | 1.2 | 1.2 | 6.55 | 49-lead BGA (6.25mm x 6.25mm x 2.10mm) |
| LTM4662 | 2 | 4.5 | 20th | 15th | 15th | 28.75 | 88-lead BGA (15mm x 11.25mm x 5.74mm) |
| LTM8051 | 4th | 3 | 40 | 1.2 |   | 9.03 | 91-lead BGA (11.25mm x 6.25mm x 2.22mm) |
| LTM8083 | 1 | 3 | 36 | 1.5 |   | 8.45 | 49-lead BGA (6.25mm x 6.25mm x 2.22mm) |
Silent Switcher ® 2 Family
Analog Devices Silent Switcher ® regulators bring new levels of performance for synchronous step-down DC to DC converters. Combining 2MHz switching, high efficiency and ultra-low EMI, they offer very compact and low EMI power solutions.
Advantages of Silent Switcher ® 2
Special design and packaging techniques to offer 95% efficiency at 2MHz
Ultralow EMI on any PCB and eliminates PCB layout sensitivity
Internal bypass capacitors reduce radiated EMI
Optional spread spectrum modulation
Automotive and industrial supplies
General purpose step-down
Servers, telecom power supplies
Distributed DC power systems (POL)
FPGA, ASIC, μP core supplies
Featured Silent Switcher ® 2 Products
Digital Isolation Technology
With ubiquitous connectivity and digitization, it's more important than ever to protect people, assets, and data from high voltages via digital isolation technology. ADI's portfolio delivers best-in-class patented digital isolation technology for data, high power isolated DC to DC converters and communication protocols ranging from RS485, USB, and CAN to gigabit LVDS and on to isolated gate drivers crafted for IGBT & SiC, isolated switches , and isolated Σ-Δ (sigma-delta) ADC modulators & amplifiers.
Advantages of Isolated Controllers
Smaller size
Lower cost / higher performance
Lower power consumption
Integrate with other functions
Reliability / safety
Automotive, industrial, medical power supply
Isolated off-line housekeeping power supplies
Electric vehicles and battery stacks
Featured Isolated Controller Products
Battery Management Solutions
Analog Devices offers a broad portfolio of high-performance battery management devices including battery chargers, companion battery charge controllers, and battery backup managers. Battery chargers are for both wireless and wired applications and may be used for any rechargeable battery chemistry, including Li-Ion, LiFePO4, lead acid, and nickel-based.

Enable long battery life and run time
Provide precision charging control
Constant status monitoring and stringent battery protection
Smaller footprint and faster charging
Circuit protection features enable improved thermal performance and reliable operations
Solar powered battery chargers
Multiple types of lead acid battery charging
Li-Ion battery charger
Electric and hybrid vehicles
Isolated current sensing
Backup battery systems
High power portable equipment
Featured Battery Management Products
| Part Number | Power management function | Vin (min) V | Vin (max) V | Max Charge Current (typ) A. |
| --- | --- | --- | --- | --- |
| LTC6811-1 | Multicell Battery Monitor |   | 75 |   |
| LTC6813-1 | Multicell Battery Monitor |   | 112.5 |   |
| LT8491 | Battery charger | 6th | 80 | 10 |
| LT8228 |   | 6th | 100 | 40 |
| LTC2949 | Battery Gas Gauge, Battery Stack Monitor | 4.5 | 14th |   |
| ADP5360 | Battery Charger, Battery Gas Gauge, Current Limit, VID Voltage Programmer | 4.1 | 6.8 | 320m |
| LTC4126-ADJ | Wireless Power Charger (receiver) | 2.7 | 5.5 | 50m |
| LTC4162-F / -L / -S | Battery Charger for LiFePO4 / Li-Ion / Lead acid | 4.5 | 35 | 3.2 |
High input voltage buck regulators
Analog Devices' high input voltage buck family is more specialized for higher input voltage applications that range from 30V to 100V. This voltage range simplifies design requirements in demanding automotive and industrial applications where large voltage transients can occur.

Wide input range for a variety of industrial and automotive applications
Very low no-load quiescent current extends operating runtime in battery powered systems
Low EMI for noise sensitive applications
Automotive and transportation
Industrial
Backup power systems
Military / avionics
Featured High Input Voltage Buck Regulators
Analog Devices offers a complete portfolio of power management tools to make designing power systems and circuits easier and with good quality. Use the LTpowerPlanner tool for system-level power tree designs, starting with the LTpowerCAD ® tool to find solutions and optimize supply designs, and then use the LTspice ® for circuit simulations.
LTpowerCAD ® and LTpowerPlanner
The LTpowerCAD ® program is a complete power supply design tool that can significantly ease tasks of power supply design. It provides recommendations for component values ​​and performance estimates specific to the user's application with power products of Analog Devices. Within the LTpowerCAD ® Program, there is also an LTpowerPlanner power architecture design tool for system-level power design and optimization.
LTspice ® is a high-performance SPICE simulation software, schematic capture, and waveform viewer with enhancements and models for easing the simulation of analog circuits. Included in the download of LTspice ® are macro models for a majority of analog devices switching regulators, amplifiers, as well as a library of devices for general circuit simulation.
LTpowerPlay ® is a powerful, Windows-based development environment supporting Analog Devices' Digital Power System Management (PSM) products.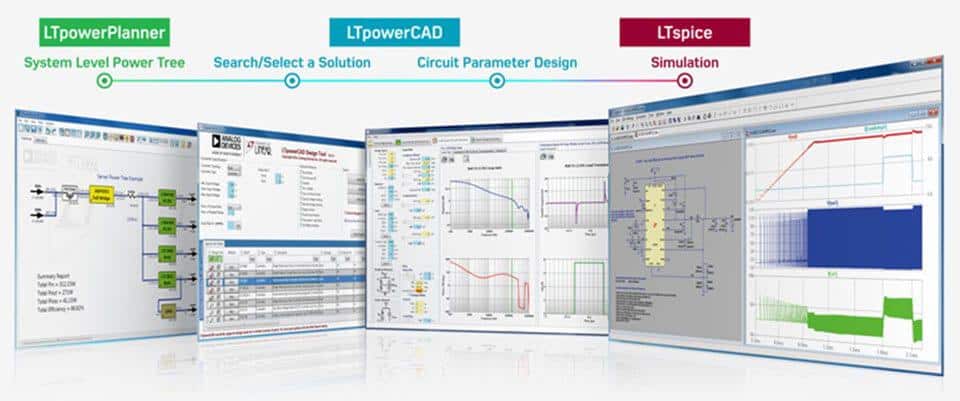 Sign up to Download the Power Guide